That Rare Breed – The 'Queensland Six'
Queensland in 1956 was not the state it is today. It was a state before the mining boom which began in the 1960's and continues unabated today. It was a state before tourism when only Southport and Surfers Paradise were beginning to attract visitors in any numbers. It was a state without sea changers and retiring baby boomers.

Queensland in the 1950's rode on the back of the sheep and cattle industry and washed down plain tucker with tea sweetened by sugar from the northern part of the state and beer with just four X's where its name should be.

Thousands of miles away in Longbridge, England, the British Motor Corporation released a new model of the Austin Healey sports car in May 1956. The new model, while sharing the shape of its successful predecessor was radically different in many ways.

A six cylinder engine based on the new BMC 'C' service engine replaced the old four cylinder. The wheelbase was extended by 2″ and this extra length allowed for two 'occasional' seats to be provided behind the driver and passenger. Overdrive and wire wheels were generally fitted and with 'improved' weather protection this Austin Healey started to look like a grand tourer.

Just the thing then to eat up the miles in the former colonial outpost of Queensland you would think. Sydney was over 900 kms to the south of Brisbane and the northern most population centre, Cairns, was 1800 kms up the Bruce Highway.

Inland towns like Toowoomba and Roma were starting to feel the early effect of the mining boom and affluent young blokes were looking for a fast 'set of wheels' to race to and from Brisbane.

So these new Austin Healey's would have sold like hotcakes right – well actually no!
While information about the Austin Healey 100's sold new in Australia is sketchy the information available on the 6 cylinder cars is far more extensive thanks largely to an important find by Patrick Quinn of Sydney just a few years ago. Patrick was contacted by a fellow enthusiast who has worked for many years through BMC, Leyland, Jaguar-Rover Australia and finally Peugeot, in other words the various stages of the company which had originally sold Austin Healeys in Australia. To his great credit this gentlemen had saved the warranty cards for all BMC vehicles sold in Australia between the late 1950's and the late 1960's.

Amongst these cards Patrick reports that there are 145 six cylinder Austin Healeys and just 1 Austin Healey 100. The warranty cards record the details of the first owner of each vehicle, the vehicle identification numbers and in some case details of the vehicle equipment and warranty work carried out on the vehicle.

On 145 small pink cards the entire history of six cylinder Austin Healeys in Australia is played out. That is of course the history up until the time the importation of LHD Austin Healeys started in the late 1980's.From these cards we learn that a total of five six cylinder Austin Healey's were delivered new in Queensland and all of these were 100-Six models. We should stress here that we are talking about vehicles which were delivered through Austin Healey dealers and this may not have been the only source of new vehicles arriving in a state.

For example my good friend Joe Jarick has details of the cars sold by Larke Hoskins who was a NSW BMC dealer. These records which list eight 100-Six cards sold during 1957 and 1958 show one vehicle BN4/0/47474 was sold on 15/01/58 to D Cavill with the notation "to be registered in Queensland". Another vehicle sold on the 26/03/58 is listed as 'Unreg' and may also have been sold interstate, although not necessarily Queensland.

It is interesting to note that of the eight cars sold three were Healey Blue (one with a white side). Three were red (one with a black side) and there was one black and white and one ivory. These numbers perhaps give a feel for the popular colours. Where was the pacific green or the primrose cars?

The Larke Hoskins car delivered new to Queensland was later to become famous as the Prad Healey, a special bodied Healey raced extensively. 
2021 UPDATE: Image of the Prad Healey.


But let's have a look at the five Austin Healy 100-Six cars delivered new through Queensland dealers.
---
BN4/0/45824 'Union Jack'
The oldest car was BN4/0/45824 with engine no ICH/45824 built at Longbridge on 13/08/57 and dispatched the next day to Brisbane, Queensland.
This car was in Healey Blue with blue trim and was fitted with a laminated windscreen, wire wheels, overdrive and no heater. This appeared to have been a fairly standard package for Australian delivered cars of that era. The clever people at BMC considered that their dear Australian customers would need long legs, good windscreens and were likely to be hot enough without a heater, thank you very much.
The warranty card indicates the car was sold almost 12 months later on 8/11/58 to Mr R M Steley of James Street, Howard, in north Queensland.
Austin Healey enthusiast and racing car driver Peter Hopwood owned the car for a time and it then went to Ken Button of AHOC NSW and with its dark blue paint work and Union Jack on the bonnet became well known in the AHOC.
After many years of inactivity Ken sold the car to Ernie and Merle Clarke and it returned to Queensland for a time before heading back to the south in recent years.
---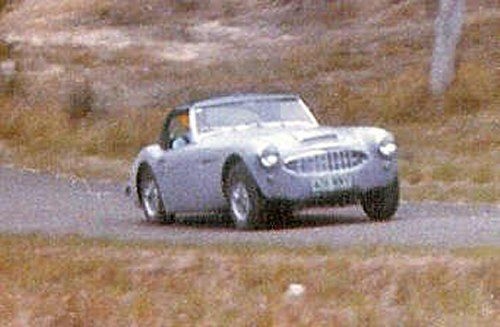 BN4/0/57414 'Charlie's Grey Ghost'
The first Abingdon built car to arrive had engine number
26 DRH 57414 and was sold on 19 June 1958 to Mr J S McCormack, 237 Cavendish Road, Coorparoo, an inner suburb of Brisbane.
The warranty card show repairs to engine, exhaust and electrical.
Long time AHOC Queensland club member Bob Pierce has provided the following information regarding this Healey:
'Previous owners included Rhys Davis (Former AHOC Queensland President), Greg Free and Bill Persky of Bardon. Persky restored the mechanicals of the body and chassis but registered it in undercoat with no trim or weather protection. (This was the 1970's when such 'restoration' was common). At one stage the car was stolen in Brisbane and recovered in Adelaide!
In May 1980, Charlie Cooper purchased the car and has retained it to this day on the Gold Coast.
---
BN4/0/47478 'The Mackay Car'
Another Longbridge built car with engine number 26 CRH/47478 appears to have been sent directly from the UK to Mr P McKenna of Mackay Queensland (again a North Queensland city).
The warranty card shows that repairs were carried out to the rear springs, which is not surprising given the state of the roads in North Queensland at that time.
This car has never 'turned up' as an AHOC car. In the Queensland club there is folklore about a 'Mackay' car that languished in a shed in Mackay in the 1970's waiting to be restored. Based on research conducted by Joe Jarick this is not the same car.
---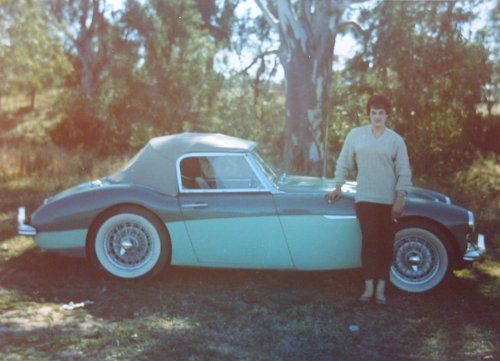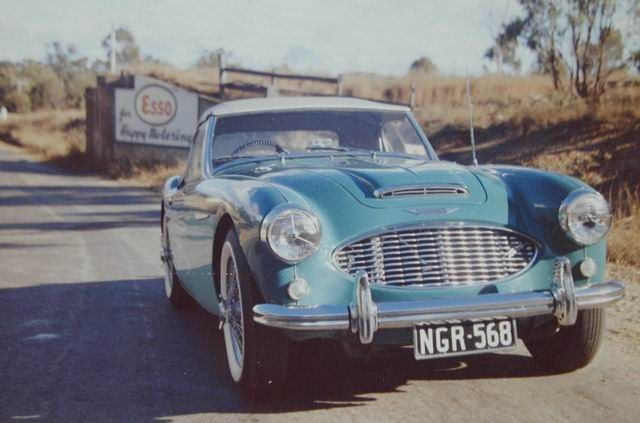 NGR 568 fully restored at the 50th Celebration dinner.
BN4/0/60292 'NGR-568'
With Engine no 26DRH60292 this car was built between 20th March and 25th March 1958 and was dispatched from the factory on 10th April 1958 to UK Motors in Brisbane, Australia.
Painted in the unusual and rare Pacific Green over Florida Green with 'grey' hood and 'grey' trim (both in reality a beige colour). This Healey was fitted with wire wheels, overdrive, laminated windscreen, Dunlop road speed tyres and described as less heater.
The warranty card lists two warranty repairs. The first on 2nd July 1958 listed work on the clutch slave cylinder, brakes and hood at a cost (to BMC) of four pounds nine shillings. The second, carried out on 8th October 1958 involved timing and tuning engine and replacing the crankshaft seal for six pounds eight shillings.
The unusual thing about these claims is that they were repairs carried out while the car was still in the showroom!
BN4/0/60292 was eventually sold to Mr J Reilly of Junction Street, Stones Corner on the 31st October 1958, (seven months after it was built) and was registered NGR-568.
Some of the subsequent owners included Mick Heffernan of Warwick (1960 - 64), Ray Perry (founding member of AHOC Queensland), Peter Townsend, Rick Scouller and Dave Shannon of Toowoomba.
In 1984 it was purchased by Paul and Helen Blake who still own it today restored to its original glory.
A short history of NGR-568 confirms that around 1960 it was acquired by Mr Mike Heffernan and he kept it for 3 or 4 years. Mike was a young man in his early 20's at the time but had a job on the Queensland oil fields and presumably had a good income. He had a series of British sports cars including a 100/4 an MGA and after the 100/6 a Jaguar.
Mike thought the MGA he had after the 100/4 was lacking in power and he travelled to Brisbane to Blair Sheppard's sports car yard on Bowen Bridge Road to look at a Triumph he had for sale. Not liking the Triumph he asked Blair if he had any other 'Big Banger' sports cars for sale. Blair said he knew of someone trying to sell an Austin Healey 100 Six and made a phone call and the owner arrived with the car in about 20mins. Mike was hooked, Blair traded the MGA for him and he drove the 100- Six back to Warwick that night after parting with 1400 pound.
Mike notes that it was fitted with a car radio, Lucas P700 headlights and had two vents cut in the front shroud to take hot air from the engine compartment. These were fitted with chrome vents from the flanks of an Austin sedan. Mike added whitewall tyres and a large sump guard for his trips to work at Roma (still a dirt road in those days).
Mike was trying to work his way through as many British sports cars as he could and after a few years of ownership, he traded it back in to Blair Sheppard on a Jaguar with some racing history. The trail goes cold again until Ray Perry moved to Qld from Sydney around 1968 and returning BN4-60292 to Queensland. It had been fitted with an early set of MGB disc brakes and was painted dark blue and was an inaugural car member of the AHOC of Queensland when it was formed in 1970.
Soon after the first meetings of the club, Ray appears to have sold the car to a Peter Townsend. Well known Queensland enthusiast the now late Rick Scouller purchased the car off Peter in late 1971 and painted it Pacific Green (Turquoise as he referred to it) over White. By this time, the engine had been modified extensively with porting and polishing, a sporting camshaft and other mods and Rick used the car very competitively in Club events. He reports that his proudest moment was to set a quarter mile time of 16.5 seconds. In late 1973 Rick sold the car to Dave Shannon of Toowoomba for $1600. Dave modified the car further with 2inch SU Carburettors and changes to camshafts and so on. He is said to have raced it at Echo Valley Hill climb in Toowoomba. Dave suffered a fire in the back of the car due to a faulty fuel pump, this appears to have caused extensive damage to the rear of the car, and all the upholstery was removed with the exception of the two seats, which were replaced with old black seats. Following this disaster the car was repainted dark green. Dave used the car for a few years and then seems to have put it in storage until early 1984 when it was offered for sale in the Courier Mail. Paul and Helen Blake purchased the car. They decided from the outset to try to return the car as close as possible to its original condition. This meant a considerable amount of research to determine what was original and then to make it or have it made as in the early eighties parts were not as readily available as they are now. In 1991/92 a complete body restoration took place. During this work the following layers of paint were removed: -
Dark green
Turquoise
White
Dark Blue
Dark Blue (Slightly Metallic)
Pacific Green and Florida Green
The condition the vehicle had reached by this stage was consistent with a car that had been in almost constant use in Australia since 1958 and had been used enthusiastically for most of that time.
It was a feature car in the foyer at the 2017 National Rally on the Gold Coast the day after it came out of the JH Classic Restorations workshop as seen in the image below.
---
BN4/0/60980 'The Bexley car'
The last new 6 cylinder Austin Healey for which a warranty card exists was sold to Mr L R Batterham of 'Bexley' on Amosfield Road, Stanthorpe on Queensland's Granite Belt.
This car was sold on the 6th July 1959 although it was likely to have been built in April 1958. It is interesting to note that the AH 3000 had been released in March 1959 some months before this car was sold.
Nothing more is known about this car although Paul Blake purchased an 'owners handbook' some years ago which belonged to this car.