AHOCs Donation to Healey Museum
by David Baggs with information from the Healy Museum
Thanks to a donation from the Australian Austin Healey Clubs the Healey Museum was able to have the Austin Healey Sprite SOK97H restored.
In 2017 the SOK 97H became part of the Healey Museum collection. Though it was clear that a lot of work had to be done to get the car in its original state, at first the car was brought into a condition that it could be exhibited in the museum as it was.
And now, thanks to the donation of the Australian Austin Healey Clubs, the car has been preserved for the future according to the specifications and design of the works department in 1969.
Why is this specific car so important for a full picture of the Austin Healey heritage ?
- It is the pre-production prototype of the Sprite MK IV.
- It was used by British Leyland Motor Corporation for one year as the "press car".
- It has the original black windscreen frame (only used on 21 sprites !).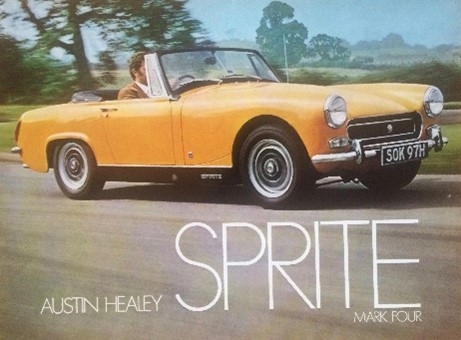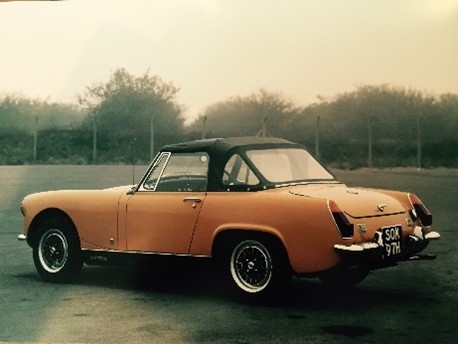 SOK97H is the main feature of all the 1970 adverts and brochures and shown on the right in its earlier days.
Short history:
Two months before the official records the car was taken of the HAN9 production line and sent to the works department in august 1969. The major changes to the exterior were: slim bumpers, Rostyle wheels (SOK97H was the first car fitted with Rostyles), new styling of the seats and black sills. Finally, the SOK97H was given the HAN10 designation and registered with British Leyland Motor Corporation for one year, before it was sold to Cecil Cousins. Cecil Cousins spent his whole working life at MG and successors. In january 1920 he joined Morris Garages, aged 15. He had been apprenticed in the Morris Garages workshop to become a fully-fledged mechanic. When he retired in 1969 he was the Works Manager at British Leyland Motor Corporation (BLMC). The last owner was Rich Weaver, who sold it to the Museum.
The Healey Museum is very grateful that the Australian Austin Healey Clubs together have made it possible to make this car a lasting and important part of the collection.
We hope that many Austin Healey enthousiasts will enjoy to see the car in the Museum for years to come.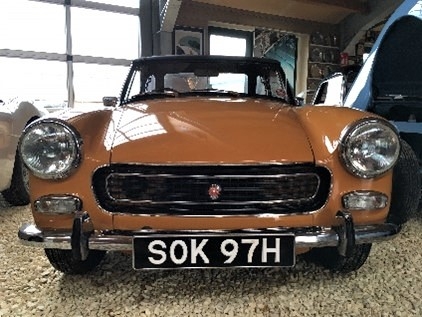 SOK97H today in the Healey Museum (back to its former glory).
Related pages