From Carnarvon to Coral Bay
April 13th to Carnarvon 353 km.
From Denham we drove to Francois Peron National Park and a Homstead or sheep station. Buildings were preserved without renovation. Due to its proximity to the salty sea, the rust has taken its toll. Interesting to see how primitive it was with steel roofing on all buildings. No insulation. Cold and drawn in the winter hot and unpleasant in the summer and all these flies all the time. Each sheep station includes a Sheep Shearing shed and housing for the shearers, who were a traveling group and had their own chef with them. Kitchen and dwelling was kept by the farmer. The chef had to work really hard. Have breakfast ready for the shearers when they wake up and then all meals during the day.
Water supply in the central part of Australia is different from Europe. There are two large underground aquifers. One in Western Australia and the other one in Eastern Australia. In the west, the water is 400 to 600 meters deep. Under a layer of clay that holds it in place at this depth. But with such pressure that a drilled well is artesian. In addition, on this farm the water was warm about 40 deg. C. The salinity is high almost that it can be called brackish water. It is possible to swim in but not for use in the household.

Water is salty and 40C - you can have a swim/bath.
The salty wind's take is a toll of steel.
We met at a school class at the age of 12 with a guide. The guide talked about what you could find in the area and what it looked like before the English arrived. The guide told us that when the nature reserve was formed, there were 15,000 wild sheep and 12,000 wild goats and a number of cats and foxes.
All these alien animals (Feral) must be exterminated from the National Park area. The sheep have largely succeeded to exterminate. The goats are about to be eradicated. It takes time and costs money. Several methods are used. One is to have traps at water holes. Another is to have a Judas goat. That is, a goat equipped with a GPS transmitter. This goat does as a lone goat would do, seeking out other goats. After a while, you use a helicopter and find out locate the herd to which Judas goat has joined. The Park Ranger shoots all goats except the Judas, who feel lonely and looks for a new herd. Where again the new herd are located and killed.

Cecilia a shearer?
Kitchen stove.
Cats are more difficult to remove. Cats want to catch their own food alive. With pheromones it has been successful in tricking the cats into eating poisoned feed. Poison feed is also used by foxes and wild dogs. The poison used, is based on a native flower that native animals are not sensitive to. But cats, dogs and foxes die. The goal of this National Park is to restore flora and fauna to what existed before the first whites came to the area. Cats, rats, foxes and hares are "alien animals" foreign animals. That is, animals that immigrants have moved into the country.
Given the large surrounding areas, it is understandable to use poison instead of traps or firearms. We were not supposed to drive on gravel roads but we could not resist go for a short detour out to the coast and take a look at Shark Bay. it was only 4km from the road. After that we understood why we were not supposed to drive on that kind of roads. It was like a washboard. We drove very slow and careful although the car shook due to the corrugations on the road. Just waiting for parts to come loose and fall off. But nothing did.
We had a nice look at the lookout at the Eagle Island. An island where de Malgana people collected Wanamalu eggs. Later the immigrants collected guano for fertilising their crops. The seagrass is growing in the waters by the shore. Continuing shallowing of the water due to the grass, traps sediment and the water by the shore gets shallower. The seagrass fields are meadows for the Dugongs that are an endangered species.


Eagle Island in Shark Bay.
View north. Photo taken at a few degrees south of the topic of Capricorn, i.e. 22.5 degrees south.
After the National Park we drove 240 km to drink coffee and meet the others who fed dolphins etc. in Monkey Mia. It was then only 110 km to Carnarvon which was the goal of the day.


Flat and sandy, just bushes no trees.
Today we had the showers in the distance.
The hotel in Carnarvon was the first hotel that was fenced with high fences and gates that were closed all night. Felt a bit dangerous to go outside at night, but it is most thefts that are committed, not robbery and abuse.

A view of Carnarvon from the old railway bridge.
A brief shower hit us.
The usual Sundowner and then a good buffet dinner. The hottest day is 33 degrees and it starts to get humid. Saw powerful showers in the distance, but only a very brief shower hit us.
April 14th to Coral Bay. 242 km
It rained lightly when we left Carnarvon. We experienced all types of weather from sunshine to heavy rain on the way to Coral Bay. In several places we passed flooded floodways. It was probably a decimeter (4" or 100m) of water along the way. According to Noel Standfast, if you see the centre line it is shallow enough to pass through. Found it out only afterwards, couldn't check if I saw the lines at all crossings. Drove slowly through. The car did well. The water did not go up to the body. The Healeys did it too, they got wet from the top as well.

Noel in the water. Arrived in Coral Bay no clear sky yet.
Arrived at Coral Bay at eleven. In an hour the sky was clear and the sun shone. There are very many people here at the campsites because of Easter holidays. Eventually we got our room and were able to go down and have a swim. Absolutely lovely in the water! We took turns swimming Cecilia and Raoul several times. We went back to the hotel and changed.
Then we had lunch, grilled chicken and salad. Walked around a bit and checked if we would buy t-shirts to swim in. but everything was to expensive due to the Easter holidays.
In the evening Noel and Helen arranged food for all of us. There were shrimps on the barbie to have on a sandwich with grilled sausage with onions. We used the camping sites barbecue area with tables and benches. A very nice initiative from Helen and Noel.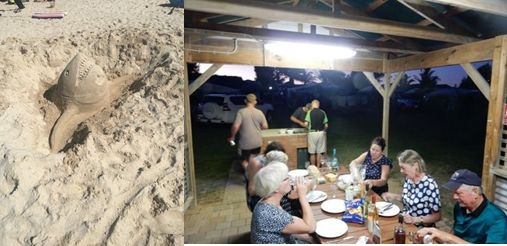 This is the closest shark we came to.
Helen and Noel made dinner at the BBQ
April 15th still in Coral Bay
Raoul had an easy day just some laundry to take care of. He could not understand why the machine did not receive the coins. Eventually, he understood that there was no electricity. After some time the electricity came on and he managed to get the machine going. He picked up the clean but wet laundry that hung it partly indoors. Should have put all the laundry outdoors. The indoors did not get dry before dark.
Cecilia was out snorkelling with some others in the group. At 10 am down at the beach where the boat comes and picked us up. It was a boat with glass bottom so you can look down under the water. We went cross fantastic coral reefs in various forms. Some look like cabbage heads with all leaves, others look like rag braids. After half an hour it is time to immerse yourself in the water with snorkels and frog feet. What an experience! It's like swimming in an aquarium. Fish of all sizes and in fantastic colours. After half an hour we change places and snorkel a bit more. The corals here have 50 shades of brown. According to Noel, the corals on the Great Barrier Reef are considerably more colourful and varied.
When Cecilia came back we had lunch and a coffee at the cafe. Went for a swim then rested a few hours, before it was time for Sundowner and dinner. Today Di and Jan have arranged burgers and salad for dinner for all of us. Yummy! Tomorrow we go on to Karratha.


The Chef himself David.
The BBQ area- we never found the lamp switch but the lights were on anyway.