In and around Perth
In Perth
April 6th In Perth
Raoul got up early to avoid morning rush. Went on his own with GPS to find a car wash. Although we would not show our rented car. We wanted a clean car to mount the rally decals on. Today it is show and shine in Kalamunda. But first we had to show up for taking a photo at 0900 on an address to be photographed with Perth CBD in the background.
Then to Kalamunda, a suburb of Perth. It was market day and the Austin Healey Club had their show and shine. It was a warm and sunny day. The Austin Healey cars were ordered to drive in colour order from the hotel. Everyone with the same colour leave at the same time. We with a tin top car drove among the last. When we arrived, most cars were presented by colour regardless of model and vintage. A nice way to present the cars.
Driving with a map book is not always easy. Especially if the roads are new for you and the signage does not exactly match what the road book shows. Starting the GPS and the road goes down a tunnel it became difficult to know where the road is as the GPS update does not work without a heaven above. The result was that we lost orientation and hooked on two Healeys who we thought knew where they were going. But they appeared to be as lost as we were. Finally we got on the right path.
At an intersection after exiting the motorway, we came to a two-way road for right turn. The Healey in front of us was driven by a man from the US. Driving on the right side of a one-way road and stressed, he only looked to the left then turning right. (In right-hand traffic you do not have to worry about traffic from right at right-hand turn. Now it was left-hand traffic and then you have to cross the lane for traffic from right).
There was a collision. Ironically, with a left-hand vintage half ton truck US made. Well no person was injured. Two drivers and one passenger were shaken. Cecilia and Raoul, too. Realizing that it could have been one of us making that mistake. After that we were very carefully with right turns. Looked and checked properly that no one coming from either side.


Pushing casualties away.
The cars on parade in Kalamunda WA.
We arrived at Kalamunda and looked at all the cars. There were a lot of people there due to the market day. It was possible to vote for the best Austin Healey.
The market was big and versatile. Cecilia ordered a dress from a lady who sewed them herself. A classic straight dress in a very nice fabric. The Lady didn't have Cecilia's size made up, so she would sew one up for Cecilia and send it to Raoul's daughter in Brisbane. We were also saw Vinnies, second hand shop where we bought each checkered shirt for tonight's theme, Wild West.
Back to the hotel we took it a little nap and prepared the evening's activity. Drinks at half-past six with photography. Then buffet and dance to a western orchestra. Cecilia got a talkative man next to her who talked continuously. He told everything about his Austin Healey which he built from the ground up for 22 years and just finished the other day! Also about his career in the mining industry in various international companies.


People in the Kalamunda markets.
Cecilia at the market.
April 7th In Perth
It is customary for ladies and gentlemen to split up one day at each national meeting. The ladies had the chance to see other things than cars and technology, Cecilia went with other ladies on a trip on the Swan River to a vineyard and tasted wines.
Raoul got a seat in a Healey and went to 2 museums. The first was Western Australia Motor. The Museum has a large collection of cars mainly made in Australia of course. The museum has cars from all over the world and for all types of use. Everything from private cars to racing cars of all kinds. The main number was Daniel Riccardo's Red Bulls Formula 1 car from 2014. It was interesting and fun to see all the different cars saved for the future. One of the finest vehicles was a very nice replica of Daimler's Reitwagen. A motorcycle made in 1885 driven by a steam engine.


Replica of Daimler's Reitwagen.
Ladies passed under the Matagarup Bridge.


Collection of new and old cars.
On the route to the Aviation Heritage Museum.
Designed by Adrian Newey for the 2014 FI season this car was driven by Daniel Ricciardo. The car did not perform to expectations early in the season but was later driven to 9 podium finishes including placing first in Canada, Hungary and Belgium. The body is a composite monocoque structure with the suspension comprising aluminium alloy uprights, carbon-composite wishbones with springs and anti-rollbar, front and rear.

2014 RED BULL RB10
The engine is a Renault Energy Fl-2014 1.6 litre (98 cu in) V6 with turbocharger driving through a Red Bull 8 speed semi-automatic transmission and the car weighs only 691 kg. The fuel is an FI mix of mainly 102 RON petrol and 5.75% biofuel. Both wet and dry tyres are supplied by Pirelli. The car you see here is on long-term loan to the Motor Museum by Daniel Ricciardo.
The Aviation Heritage Museum has a large collection of aircraft of all ages. Interesting to see all of these aircraft and how to be able to fit all of them in the available space. There is, among other things, a Tiger Moth from the time of the First World War. Great to see these planes that was flying over Europe during wars. They flew so long distances and many hours. Don't understand how the crews coped with the stress and pressure that it meant flying so many hours over hostile land. Not very many made it through the entire war.
A DC 3 flying from Brisbane to Perth overnight with just one stopover! Was it possible to sleep in these planes? Sound-proofing was minimal. The "bed" was more a hard bunk. You cannot have been very productive next day. All of these aircraft have been refurbished to a large extent by volunteers who work exclusively with interest and passion. It is truly an experience to see these collections of cars and aircraft. Future objects will come in as well. This means that the museums also live and reflect today. Fantastic.

New and old airplanes in a very nice mixture.
Bunks in the overnight plane from Brisbane to Perth.
Cecilia went with Judy, Di, Jan and Helen on a river trip on the Swan River. They took a taxi down to the quay. Quarter at ten the boat departed. The skipper also guided along the way. After driving under a number of bridges, the river narrows. Nice villas mixed with recreation areas along the riverside. After an hour they were offered some cheese and biscuits. With the cheese they were served and taste two kinds of white wines.
Two hours later they arrived at the Sandalford Winery. There was a guided tour of the wine production. After the tour there was a two course lunch served with a salmon dish and a baramundi dish. Very tasty! But first, they tasted six different types of wines, three white, one rose and two red. At half past 2 pm it was time to go back again. That was also a two hour trip. Taxi back from the quay to the hotel. In the evening dinner at the hotel. Cecilia was not hungry after the very nice lunch. Two magicians entertained and they were wonderfully talented!
April 8th in Perth
The excursion today was to a restaurant outside Perth. Goosberries Restaurant. There were really scenic views on the road there. On the way there we drove on a road with 4 very steep slopes. The slopes were so designed that when one was in the upper part, cars disappeared in front of you in an even steeper part of the slope. Unfortunately, it is impossible to illustrate with photos. Neither I nor Cecilia was prepared then. On the way back we tried to video and photograph but the illustration of how steep the slopes were. But it cannot be shown.
We also passed the place where Peter Brock died. Peter was a successful car driver who won many car races with large margins. He crashed at the scene in 2006 with his Mercedes during a rally. There are pictures and videos on Youtube from the site.

Memory of Peter Brock.
Cars lined up in front of memory of Peter Brock.
Each Rally has a competition between the different states and continents. We were a total of 6 teams in Queensland, New South Wales, Victoria and Western Australia. Then a team from the USA and Europe. In the European team it was Raoul and an Englishman. The challenge this time is to fly a drone 30 meters and drop a load on a target. The Englishman did the best of all and got a total of 5 points. That gave the victory to the European team.

Cars lined up at Gooseberries Restaurant.
Drone with cargo for release on target.
Today was the last night for the Rally with Gala dinner in the evening where the awards ceremony took place. All remaining material for the rally was auctioned off. All to cover the cost of the Rally. Once back we rested a little before it was time for "gala dinner". A little speech and thanks to everyone in the organizer group who did a fantastic job!
It was table seating this time and we got nice table neighbours. Adrian and Marita that we know before. And Elaine and her husband from Melbourne. They are so nice! The orchestra that played was very good. Many songs from the sixties, which is needed in this collection where most people have reached a considerable retirement age.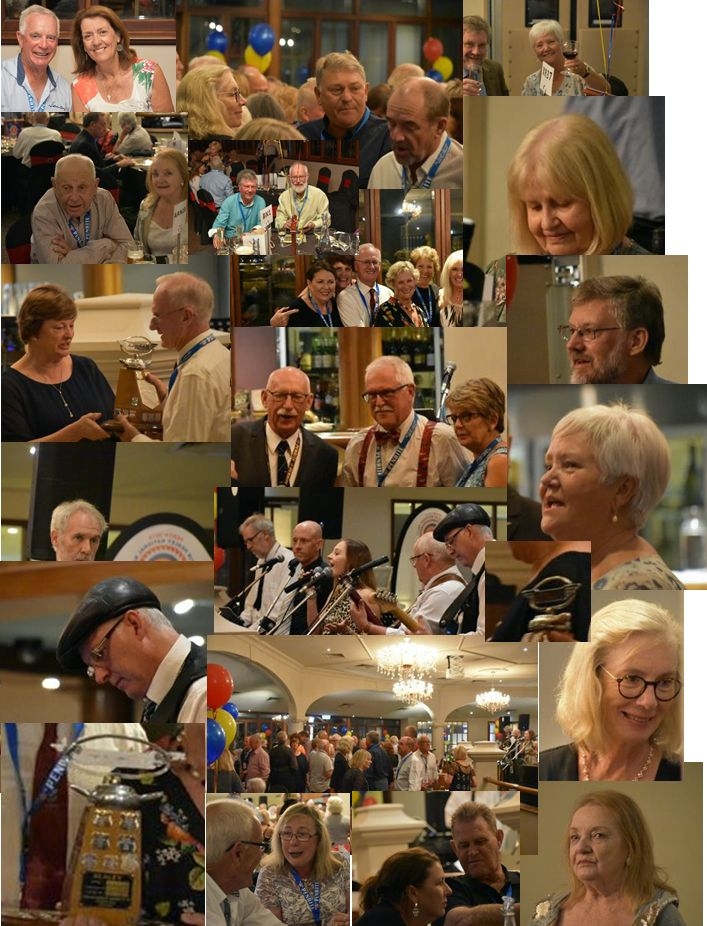 Goosberries Restaurant crowd.
April 9th In Perth
Breakfast as usual and then brunch/tea party in Sir James Mitchell's park near the hotel. The cars were lined up in an arch so you could take a photograph of them with the Central parts of Perth as a background. To get all the cars on the bank you had to go far from them so that there were small cars far away, and in addition, backlighting from the sun was problematical.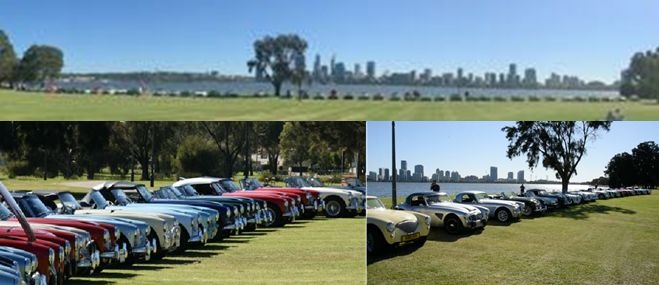 Cars lined up at Sir James Mitchell's park.
Later I drove Neil to Repco for the purchase of engine oil. He has filled over 5 litres in his (Judy's) race trimmed 3000 the last 4600 km we have driven. The gasoline consumption was 15 litres per 100 km. Gasoline prices vary between stations and locations. Between 1.34 and 1.90 AUD. The highest price was at Nullarbor. Farthest from competitors and expensive transport to get the gas there. I do not dare to think of our total cost of gasoline! Let's discuss it when we get home. We have more than 9000 km left.
Jan, Helen, Di and Cecilia went to town to do some errands. The hotel offered free transfer to town! Got changed the extra glass on my phone. About half the price here compared with Sweden. We also ate a small lunch downtown. Some return home today, others stay a day or two. We head north on Thursday morning. We and 11 others and had dinner in a pub a few blocks from the hotel. It was messy and loud as it is in a pub, but good food! We said goodbye to Judy, who is flying back to Brisbane early next morning to work.
April 10th in Perth an extra day
Has not recorded the tripmeter since April 4th. Now it is 7404 and the 4th it was 6290 which means we have driven 1114 km since we left Esperance on the south coast. It was 716km to Perth and then we have driven 398km in and around Perth. Including our excursion today. We went via Kings Park to Fremantle and back. Kings Park is a lookout point just north of central Perth, a botanical garden with a memorial to all those who have fallen in war for Australia since WW1, from Western Australia. There are over 7000 names!
After having a coffee and a look around we drove on the north side of the Swan River out to Fremantle where the river flows into the Indian Ocean. Fremantle is also known for the port of the Volvo Ocean Race. It is the largest port on the West Coast besides the specialized iron ore and oil ports. Freemantle is a city that, according to our friends, was quite run down prior to 1987 when Australia lost the America's Cup. It was revitalised in the period architecture. Now it is a bit trendy to live there. We visited the naval museum which was quite nice. The building itself is very nice.


Statue remembering all fallen soldiers from WA.
View from Kings Park looking west.
Back to the hotel we took it easy until dinnertime. In the evening we went to Charlie Mitchell and his wife in Kalamunda. They had a thank you and goodbye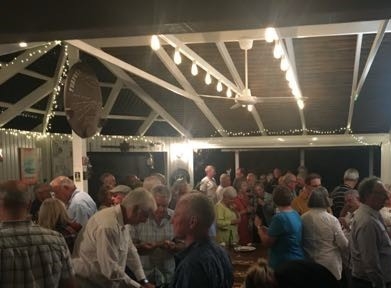 Farewell Party held at Charlie and Linda Mitchell's place.
e party at their house. Each of us brought their own drinks. Then they ordered pizza. The pizza delivery had to come a number of times to cater for the crowd. We were about ninety people there. We didn't stay that long because we were up early next day in order to get away on our trip back to Brisbane via Darwin.