The Mary River Resort
April 29th Darwin to Mary River Resort
Today is the first day of the highlight of the trip. A 4 day excursion to Mary River Resort and Kakadu National Park. Depart from the hotel at 0830 towards Mary River Wilderness Resort.
First stop Howards Springs. The first national park in NT. During WWII, it was an area of relaxation for officers. However, an environment was created for a bacterium that causes ear infections so everyone who bathed there got ear infections. It is not possible to swim there anymore but a water playground for children is built beside the original dam.
The guide fed the fish so we could see a Barramundi and we got see the fast glance of a Barramundi that came to the surface very briefly and twisted the food a couple of times.

The fog dam dike.
Howards Springs dam.
Next stop Fog Dam. The dam was built for rice cultivation in the area. It is flooded during the rainy season. We sat in the bus which drove very slowly over a dike that shared the area.
Amazing water lilies with beautiful flowers. We also walked a bit on the dike, though not too close to the waterfront. Walking on the dike was really forbidden but allowed by our guide on a stretch that the dike was a little wider. The water level was low which meant that the water line was more than 5 meters from the roadside.
There are saltwater crocodiles in the area. You should be more than 5 meters from the waterline and pay attention to where there may be saltwater crocodiles. The crocodiles are fast but you should get away if you are more than 5 meters from the water. Also, crocodiles do not hunt for prey but wait for the prey to come close so that they can easily take it. 5 meters up on land is too far to be a sure win for a crocodile.
We saw the White bellied Eagle and white waders. This is rich water with plenty of nutrition. Lots of life of different kinds in the water and thus many animals higher up in the food chain, like birds in different forms. And saltwater crocodiles! They are far inland despite the fresh water. As the water comes into contact with the sea, the crocodiles enter. Fog Dam is low in relation to the sea outside so that the tide penetrate long into the rivers.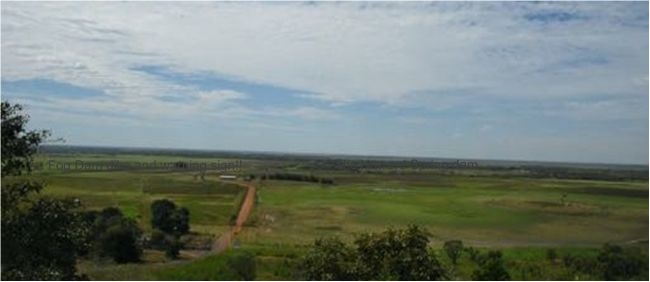 From the lookout of the window to wetlands.
Then we went to a lookout called Windows to Wetland. A fantastic view of the wetlands.
Further transfer to Corroborree Billabong and a good BBQ lunch on the boat with sausages of crocodile and buffalo. The crocodile meat is very light and firm. The buffalo meat is dark and was quite spicy but tasty.
Riverboat ride on the Adelaide River. It is very beautiful and restful in some way. Lots of fish in the river and many birds flocking to them. Also saw two small saltwater crocodiles. It is supposed to be 7 crocs per km. We travelled at least 3 km so we should see 21 crocodiles. Probably the other 19 saw us before we saw them. It was warm in the water above 32 degrees and then the crocodiles are often a bit down, where the water is around 32 degrees which is their favourite temperature. When the water gets colder they come up to sunbathe/warm themselves in the sun.

White bellied Eagles at Adelaide River.
Eastern Great Egret flying over water.
After two hours we were back at the bus.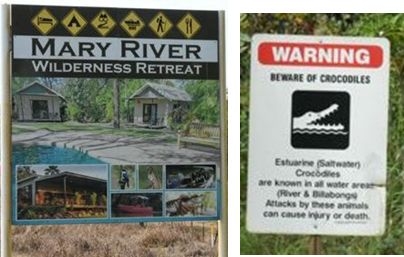 First you see this big sign and then the small one. On the way in to the Resort!
Now it was off to the Mary River resort where we will be staying. We live in small nice cottages. Happy hour at five with a little beer and wine. We had our dinner together with older couple from Colorado and two couples from Brisbane. Very nice everyone.
April 30th Mary River Resort
Our car is in Darwin we at Mary River Resort so it will be 0 km with it and we will go by bus. Continental breakfast at 0700 and departure 0800. Delayed one hour drive east to Mamukala after stopping at Aurora Kakadu Resort for brief information on where we were going. The bus automatic gearbox stopped changing up to the highest gear so the driver/guide decided not to take us further from The civilization and the opportunity to get the bus repaired and therefore returned home. It was an hour back as well. Back to the hotel at 12 noon and Cecilia took a swim in the pool. Then we made walk at the area around the hotel. Many warnings about Crocodiles and poorly marked paths.
Raoul saw a snake but it was more afraid of us than the other way around. At 4 pm we went on a river trip by boat to look for crocodiles. Two crocodiles could be spotted for those sitting in the right place in the boat we others saw one or none. The crocodiles were not cooperative at all that day. Too hot in the water according to the guide. At the end we hit something below the surface.
Whether it was a crocodile or a log is difficult to determine. The guide quickly turned the boat around and drove back to the starting point. It was something he did not expect. The dinner was fish i.e. Barramundi or a piece of meat. The pannacotta dessert tasted good. Nice company around the table.
May 1st May River Resort
Hot breakfast 0700. "Cooked" as it is called when you get a full English breakfast. The guide drove the bus we had yesterday to Darwin 115 km away and returned with a rented bus. A small one with small seats where you hit your knees in the backrest of the seat in front of you. No headrests either. But it works!
A long trip to Kakadu National Park. First stop was Cahill's Crossing, some 173km, which is the only entrance to Arnhem country. Western Arnhem land is prohibited for whites. It is an agreement with the indigenous people there. The transition to Western Arnhem lands on a riverbed road. This means that the road is a concrete slab over which the river water flows. Can only be used at low flow. The area is otherwise isolated.
After that we went north to Ubirr and looked at paintings. They are several hundred years old or more, and look amazingly fresh. The art of painting was a well-established tradition and with fixed rules about. It is storytelling about what they have done in the area and if has been dangerous and or rewarding.
Except for the oral tradition this is the only way to tell others not present if it is a good place to be in or not. The indigenous people had no written tradition. Their language is only oral.
The path we walked eventually led up to a plateau where you had a fantastic view of the wetlands. Cecilia was really proud to be able to walk all the way without rods!
Over time, indigenous people have learned to use and read the nature and the shifts of the seasons in a unique way.
People have been able to survive on this continent under the most extreme conditions. Dry and hot, humid and hot. Storms and fires. Water has been found daily in various ways during hikes. On rocks, stories have been drawn but only for initiates. Stories of good or missing catch are described in pictures. The pictures are found in places where you have established that you have resided temporarily or permanently. The latest pictures were made as late as 1963. Now there can be no more as no living people have been inaugurated how to do and thus can perform paintings. Many of these images are inaugurated. Inauguration can only be made if you have the right origin.
Raoul walked up to a lookout and had a look out over the flat landscape. It is a great view from the lookout.

Cahill's Crossing. The Port to Arnhem Land.
Paintings at Ubirr more than 2000 years old. Amazing!
Some of the group wanted to take a flight over Kakadu National Park so we left them at the airport in Jabiru. We others went and looked at a uranium mine that is next to Kakadu NP. That's if I understood the right world's largest uranium deposit. It is an opencast mine that is actually being wound up. Despite finding large deposits during the open pit. The area should be restored. Given that Kakadu is a World Heritage listed, that's good. But it is also a matter of profitability. Then we went to Jabiru, which is the nearest town. It developed and grew as the open pit started. Now no more than 500 people lived there. They have a hotel that imaginatively looks like a big crocodile! We went to a park where we had lunch. Much needed!


The rock at Ubirr.
View from the rock.
After lunch it was time to pick up the "pilots" at the airport. We went to the Bowali Visitor Centre where the former airborne people had their lunch. Others had a coffee and looked around.


The Dam in Jabiru- a man was killed by a Croc where I am standing.
The Uranium mining at Jabiru.
We went on to Nourlangie Rock, where for an hour's walk we looked at paintings that also were ancient. We came to the cave first, which was superbly constructed so that it had shelter from all the harsh winds of rain, while the cool breeze was always there. There were tracks in boulders after cooking.
Time for a return trip to Mary River, a trip of about two hours. Everyone is a little tired after a long day. Dinner is ready when we return shortly after seven. No time for shower before dinner. Good dinner on Shoulder of sheep. Very good and tender cooked.
May 2nd. Last day at Mary River Resort
Breakfast 0700 depart 0800 to a place where a freshwater crocodile and a saltwater crocodile are located within the lock and boom so you can view them up close still be safe. In comparison, the saltwater crocodile is much larger. Has a more powerful jaw.
Then a long journey to a presentation of termites. Magnetic and Boulders. They have different strategies for keeping the heat at an appropriate level. Boulders ventilate its tall buildings. In termite society is one queen who is the mother of everyone in a stack. When the queen dies after 30 to 70 years, the whole community dies and even the stack degrades. The stacks grow by 0.5 to 1 meter in 10 years. Magnetic termites build their stacks narrow but wide. Always with the broad side of the east west direction. This is to catch the sun in the morning but not in the middle of the day.


Cathedral termites. This is Cecilia in the picture not a termite.
Magnetic Termite building.
Then we went to Florence Falls. For swimming or a short walk. The lunch was eaten at another waterfall high without too much water. Due to the lack of rain last wet season.
After lunch it was off to a Wangi Falls, new bathing place. Not so high, but with many pots to bathe in. Above 28 degrees in the water. Nice with not directly cooling. On the way to Darwin, we stopped at a mango farm that uses its own harvest for the production of ice cream and other both frozen and preserved products. This ended the stay at Mary River Resort or shall we say on the Mary River Resort bus.

A little ice cream made of Mango.
Kelly the guide who never stopped.
It was many hours in a bus that was not made for a full grown westerner. Possibly school children. Doubtful if it was worth the price to see so little in such a long time and travel bus so much.