Winton and Longreach
May 7th to Winton. 667 km
Departure 0630. Healeys left 15 min earlier. In the dark, when all cats are grey. 13 kms outside Mount Isa the highway was closed due to an accident with an overturned semitrailer Reportedly for another 2 Hours. We had probably met all 4 Healeys on their way back but in the dark we could not see what kind of car we meet. Nor were we prepared to meet the Healeys. We turned around and tried to find another way but it was a dirt road.
Neil called, when we turned around on the dirt road, they were back at the hotel. We wanted coffee and were looking all over the CBD of Mount Isa for a cafe but only to find very close to the hotel it when we gave up. Shopped at Woolworths and then to the hotel for gathering and departure 0845. The road turned out to be free for more than an hour.
The next stop was refuelling after 100 km. After 128 km then beer at Crocodile Dundee's favourite pub. Walkabout Creek hotel in McKinlay. That is the tavern used as a backdrop in the Crocodile Dundee films. The interior shooting was made in a shed behind the pub. In front of the hotel is his car is on display. It looked even less driveable now than in the movies. This pub is really in the middle of nowhere. Not a house in sight.


The Walkabout Creek pub.
Raoul, Neil, Noel and David in the Walkabout.
Lunch, after another 76km, at the Blue Heeler hotel which is named after the dog breed Heeler that is a Cattle dog. This is really in the middle of nowhere too. People have written their names on the walls and made a contribution to Flying Doctors. Caps are also donated, so we donated an Austin Healey Owners Club cap with contributions to Royal Flying Doctors.


Healeys at Blue Heeler hotel - Caps at the Blue Heeler's pub.
The AHCOQ cap is the black in the middle far down.
Then to Winton which is a small town. With some hotels and the centre for opals in Qld. After checking in we went to tourist info which was surprisingly large and nice. The big attraction in town is Banjo Paterson who wrote Waltzing Matilda. After the Sundowner we all ate dinner at the Gregory Hotel, a very old and, rich in ancestry, hotel. Small town but a great restaurant with many guests.


The story about Waltzing Matilda.
Three Healeys on winding road.
As always, I find it surprisingly many and large restaurants in rather small towns. There are not many people living in Winton. It must be the many people passing through that makes the restaurants going. We have booked all the hotels, for our trip, in advance so there have always been booked rooms for us. But some hotels have had no vacancy when we got there. This was true of this hotel as well.
May 8th in Winton
Cecilia and Raoul started the day by visiting the Music fence, a place with instruments made of all sorts of things. Then the truck museum next door. Some nice trucks from different ages. In addition, they had a lot of wrecks in the yard. Interesting to see the development of trucks over time. Also scary how undeveloped they were just 30 years ago.


Musical fence in Winton.
Well renovated trucks from yesterday.
We went down to the tourist info again to see what we would do more. We decided to go to a place where you can look at dinosaur fossils. It was about 25 km outside of town. The first legs were found on the ground. This is when the soil or upper soil layer rotates by drying up the soil and the rain pulls down the top soil layer in the cracks. This means that what is in or below the soil layer is moved upwards. The sandstone below is also eroded so that what is in the sandstone is released and moved up to the surface.
This is how the first fossil bones from a dinosaur were found by a station owner. Since then it has only been found more and more. We got to look into a workshop where volunteers sit and release fossils from surrounding materials. As well as an exhibition of the bones found. Some bones were in many pieces and jumbled. Good guides and good movies that complemented the experience.
The entire centre was funded by the entrance fees and volunteer work. On application, the museum receives grants from the state. A new road from the national highway cost AU$240,000 and was received in grants.
Back to town we had lunch at the museum and afterwards we went into the museum. Much is about Banjo Paterson, the son of the city who wrote 'Waltzing Matilda'. The melody is so associated with Oz that it was played for a gold medalist in the Helsinki 1952 Olympic Games. Also used as a military march and in other contexts. The ballad is about a 'swagman' who camps at a pond and sees a lamb that he stuffs down in his backpack. Three policemen want to know what he has in his backpack. The swagman does not want to go to jail. He jumps down into the pond and disappears. The hat floating on the water is all that remains.


Real bone from real dinosaurs - Amazing!
The Workshop to take away the stone from the bones.
The museum was interesting and told about many different sides of the countryside. For example, some movies have been recorded here. After the museum we went to the hotel and rested for a while. Sundowner and dinner at the same hotel s yesterday.


Andrew Barton Banjo Paterson.
The North Gregory Hotel. It is Majestic!
After dinner we went to the second oldest outdoor cinema, after Broome. Opened in 1918 but burnt down in the forties. Rebuilt a few years later. Now it is run by a non-profit association. They showed nostalgic films like Bonnie the rabbit, Laurel and Hardy. All black and white. We sat in canvas type sunbeds. The evening was chilly, so we got pretty frozen but it was nice!
May 9th to Longreach. 185 km
Short drive today. Departure 0645 and arrived to Longreach before the tourist information opened at 0900. Over a coffee cup we discussed what we would do the next 2 days.
We booked an evening cruise on the river on Friday night at the tourist information. Up to Qantas Museum booked a guided tour there, over to Stockman's Hall of Fame. Was there 10:56 and managed to get into their show at 11:00. It is a Stockman who shows his horses, a quarterhorse and a stockhorse. They are obviously easy to train because they can do a lot. In addition, the stockman rode a bull (castrated?). Nice show. '
After the show we were told that David and Di have not arrived yet because their battery has caught fire and fire flames came out of their trunk. Poor coverage on the phone. But they got help from a local farmer who had an antenna that amplified the signal on the mobile phone enough to send text message. We checked into the hotel and met the accident birds Leybournes and Standfasts. Power cables at the battery a few inches from the gas tank burned with an open flame. David got in touch with RACQ who picked up the car.

Driving sheep with dogs.
Sitting on a "horseback" singing.
Noel wanted to go out to them to help them. He got the satellite phone with him. But before he got to the point of fire he realized that his gas would not be enough to get him all the way back again. Wayne had to borrow a can and drive gas to Noel a couple of 10 km out of Longreach.
We had a light lunch then went into the museum at Stockman Hall of fame and start our tour. After an hour, we head over to Qantas to take the guided tour. We looked at some artefacts before the tour because it was delayed half an hour. A guided tour tells you more information than what you can read on the signs. After the tour went back to the hotel to have a rest.
At a quarter past five we head off to Stockman's again to look at the evening show and have dinner. We started with a drink from the bar before moving on to the platform. It was the same artists as in the morning but the dinner show was extended with a lady and two children. The main character is the one who talks, sings and leads the show. He is very good at it and a good country singer. After the show we had food; grilled meat, sausages and beef steaks with roasted potatoes and salad. Really good. The Stockman also sings during dinner. It's over at eight. A fun and interesting show about Stockmen as those who care for cattle and sheep are named in Oz.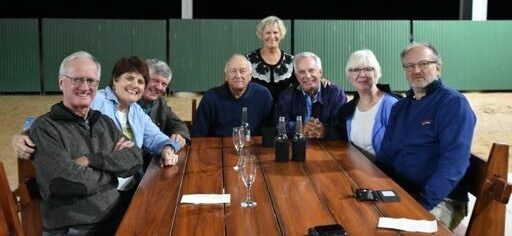 Drinks at Stockman's Hall of Fame.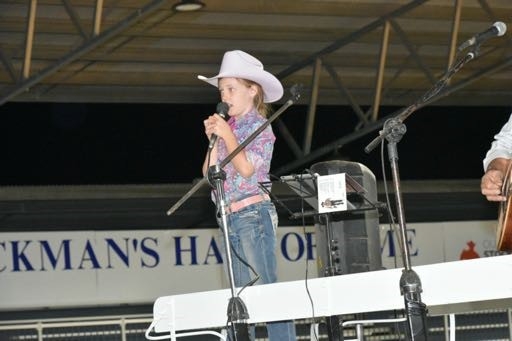 Young artist. You have to start early these days!
May 10th in Longreach
A little sleep in today when activities start at 900. We went to the Qantas Museum first and Raoul went on a guided tour of the aircraft 707 and 747 and got to see DC 3 up close. Cecilia is looking a while before going over to Stockman Hall of Fame. Cecilia had a cup of coffee and a chat with the girl in the cafe who was from Argentina. Then continues to look at the different exhibition parts.
Raoul made the guided tour of Qantas Boeing 707, the first 707 and the first jet that Qantas put into operation. It was used by Qantas and rebuilt into private jet for a large sum of money. It was for sale after the rebuild 10 times more than Qantas bought it new for. Never sold for the asking price. Probably a bad investment for those who paid for the renovation of the plane. Equipped with gilded belt buckles and cranes. 2 satellite phones 4 TVs (thick) one Beta and one VHS video players as well as CD players. Walnut interior. Bedroom with ensuite. Only twenty passengers could fit in. The plane was used as a chartered private jet by Michael Jackson, among others.
When Qantas was noticed that the plane was for sale in London UK, it was in poor condition. The Museum spent a lot of money and a lot of work in order to get it certified for flying, so it could fly from London to Longreach. It was allowed to fly after 15,000 man-hours of repair to fly without passengers from London to Longreach in daytime only.
The 747 has made 18,000 landings and flown 5.4 million passengers. Landed on Longreach airfield even though the runway was too short and too narrow and not made for such heavy aircraft. The plane flew and landed without passengers and with minimal fuel. It was a great gift from Qantas as the planet had a scrap value/sales value of AUD 5 million. The landing took place on November 17, 2002.

Qantas Founders Museum Boeing 747.
Qantas first jet propelled Boeing 707.
Raoul joined up with Cecilia at the Stockman's Hall of Fame and had lunch there. Raoul is so fond of Akubra hats so he buys one. Then we went down to town and stroll around. Found a nice handbag that Cecilia didn't buy. The only thing Cecilia bought today is two shawls.
At three o'clock we went back to the hotel to prepare for a boat trip on the Thomson River with a subsequent dinner. We were picked up by a bus shortly after half past five. We brought warm clothes as the boat trip and dinner was outdoors. First it is the boat trip with some snacks and BYO drinks. The boat was a wheel "steamer". The steam engine was on board and moving, but the boat was propelled by a Ford marine engine and two paddle wheels.
After the boat trip, all of us, some 50 people, gathered around the campfire, but on chairs. A stockman told us what it could look like in the evening at the campfire. He did very well and humorously. Then had dinner with mashed potatoes and a stew. Then dessert, apple cake. After dinner, a barefoot poet recited poetry and told funny stories. He also did it very well. Then we went down to the river to some kind of movie theatre where they showed a move about a famous person at the end of the 19th century, Captain Starlight, who stole cattle and then drove them down to south Australia where he sold them. The case was brought to court but he was acquitted.


The captain of Thomson Belle.
The artists at the evening show.
After the movie, tea and dumpers. It was really cold so we stood and froze and gathered round the fire. Then bus took us back to the hotel. The driver seemed telling stories without breathing whilst driving.