Cooly Rocks On 2022
After the endless rainy weather and previous COVID cancellation, we were all holding our breaths that this Cooly Rocks On event would:
eventuate;
not be rained out; and
be as successful or more so then previous events for our contingent of Healeys.
Fortunately, the sun shone, the breeze was light, nights were cold but days very pleasant and the crowd was massive. Cooly Rocks On has evolved into Australia's largest nostalgia festival. A signature event on Queensland's calendar, it brings music, fashion and most importanly cars to the Gold Coast and this was an extra special year.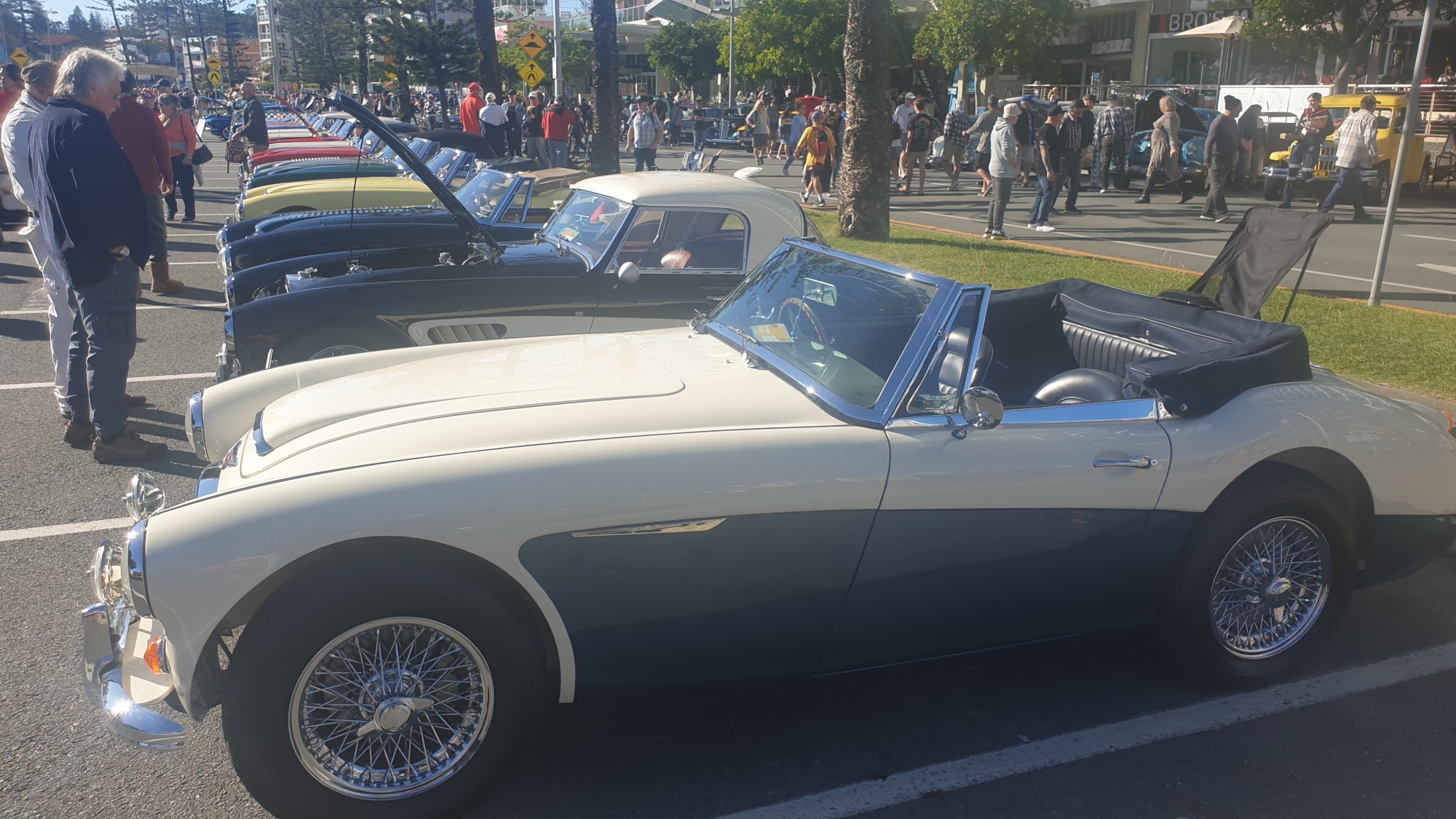 Different groups within the AHOCQ contingent gathered at Neil and Judy Tregea's and Fay Bryant and Ray Hick's places and the 'Reflections on the Sea' apartments in Coolangatta and converged first thing Saturday morning to set up the display and then go on and enjoy the day. The day was full of lots of questions and interest in our cars, as well as an Elvis competition, multiple music and dance stages with hundreds of dancers, a large number of market tents selling lots of nostalgia related clothing, regalia, fashion, nic-knacks, and car products, not to mention the innumerable food trucks!
While not the biggest car display we've seen in the years AHOCQ has been involved in the event, the mood was joyous, fun and super happy.
One of our Healey owners, who shall remain unnamed, was even inspired to the point of putting in a serious offer on a bright red, supercharged, V8-powered Chevy with 24" rear slicks and full roll-cage. This is a story with no conclusion yet, stay tuned!
Sunday morning arrived with the whole contingent having been invited by Fay Bryant and Ray Hicks to breakfast at their beautiful apartment overlooking the river. Bacon and egg rolls and bagels, with orange juice and coffee were the order of the morning served with generous helpings of tall tales and true from various members. Eventually we decided it was time to get back to the cars and the thronging crowds. Thanks Fay and Ray for the invite- it was a very convivial and picturesque breakfast with closer friendships developing on a number of fronts! 
To see a video, check out this link to a video taken by Chris Walsh on the Sunday morning.
We were very fortunate to be situated right opposite one of the best little cafes and cocktail bars on the strip, 'Vanilla Lily' served lots of meals to various members and separately, too many cocktails to count were devoured, and it was just as well all the imbibers could walk back to their respective beds for a nap!
At the end of the day the traffic arrangements were a bit of a mess, with one traffic warden telling us we could leave and those who needed to to head back east their digs to pack before leaving only to be told by the next traffic warden that wasn't on and several cars ended having to drive to Kirra before wending their way back through the myrriad of road closures to pick up their bags.
Anna and I decided we didn't want to sit in a traffic jam headed for the Motorway as we did last year so stayed back with Bill and Barb Priddey at a local Italian noshery they had heard good reports about. 
I can confirm, that was an awesome idea, as the lobster bisque, squid ink black pasta linguini shown below was my selection and scrumptious! 47 minutes home was a second and powerful reward.
All in all, another great event. The weather couldn't have been better and the event and the company way awesome. I will be back and I am sure the rest of the contingent will be also. Maybe consider joining us next year if you missed this one!
Let's make 2023's Cooly Rocks On, even bigger again!!